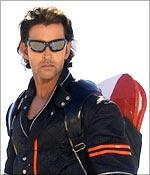 Abhishek Bachchan - Jai Dixit
Bipasha Basu - Shonali Bose
Producer : Yashraj Films

An explosive, adrenaline-pumping Dhoom 2 is what I expected, but what I got was more: A complete roller-coaster ride which left me completely enthralled and exhausted by the first half. Before I get to the questions you want answered, let me outline the story. Dhoom 2 opens to a robbery taking place in a train passing through a desert in Namibia, supposedly the world's oldest solitary railway line. And a breathtaking robbery it is, with Mr A aka Aryan (Hrithik Roshan) parachuting down on the train, and getting away in a captivating sequence. There are twists and turns in the second half, some expected, some not. Sure, there are faults when you stop to think rationally. But that does not stop you from being dazzled by the film. Men, women, kids, no matter who, the high-on-octane action sequences and racy chases will leave everyone panting. The subtly done special effects are another draw, making you want to take the roller-coaster once more.
OK, so let me now answer the questions uppermost on everyone's mind. Dhoom 1 or Dhoom 2? Dhoom 2, obviously. Ash or Bips? Errr, tough to call, honestly. Both are awesome. This is a Hrithik film, he simply takes over the film, effortlessly overshadowing Abhishek.

My verdict: Go see Dhoom 2 now, and get rocked.